H&H Classic Parts -
Wiring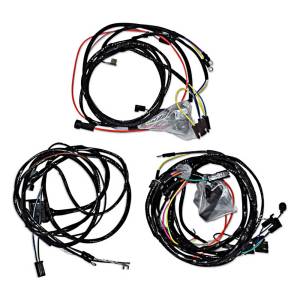 The wiring on your classic Chevelle has worked hard for a long time, so it might be time for a refresh. Wiring can deteriorate, and sometimes rodents chew on it. Since all of your classic's electrical components and harnesses are connected to wires, replacing any worn or old connections is important. Whether you're preparing your Chevelle for a car show or just enjoy driving it around town, you want to avoid shorts in your electrical system.
At H&H Classic, you will find a large selection of wiring products to get your electrical equipment in working order. We carry engine harnesses, back up lights, console harnesses and more. We are committed to bringing you the best part for the best price. We also offer a large selection and low prices on a host of other Chevelle reproduction parts. Get your classic Chevy wiring at H&H.
Select a Sub-Category
Wiring
Featured Products
Part #: 8207
Description:
1967-1972 Chevy Truck or GMC Trucks 1970-72 Chevelle or Malibu or El Camino 1970-72 Chevele SS or El Camino SS 1968-74 Nova or Chey II
Part #: 4383
Description:
All using Spal Fans (H&H part number 3786)
Limited Supply:
Only 6 Left!
Part #: 4382
Description:
All using Spal Fans (H&H part numbers 3782-3783,3784,3785)
Limited Supply:
Only 7 Left!
---