H&H Classic Parts -
Emblems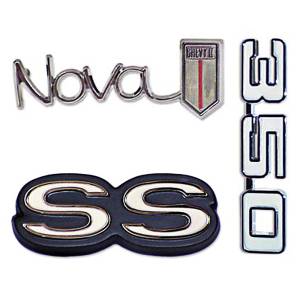 The Chevy Nova is a small compact car that debuted in 1962 and, although not produced between 1979 and 1984, made it to five generations until its end in 1988. The Nova was a trim package that got its own model once it became the top model of the Chevy II lineup. The Nova was quickly embraced by fans of the muscle car, and this popular Chevy has been restored, customized and raced over its lifetime.
The emblems are all part of the restoration of these popular vehicles, and at H&H Classic, we have a large selection of Nova emblems to complete your restoration job. We carry console emblems, door panel emblems, dash emblems and fender emblems. We also have glove box emblems. Any place that the factory put an emblem, we have the replacement for a show quality finish.
At H&H Classic, we are family-owned and -operated by car enthusiasts who specialize in classic Chevy parts. The Smith family started H&H Classic in the 1980s, after many years in the parts industry. We are committed to selling the best parts at the best price with the fastest shipping.
Order your new Chevy Nova emblem now.
Select a Sub-Category
---
---
More About
Emblems
Your classic Chevy Nova is not complete until you add the emblems to the car. These emblems are a way to distinguish your model Nova, and they are necessary if you are showing the car. The glove box emblem indicating that you have an SS or the fender 350 emblem all add the distinct sense of pride you have in finishing your car. These emblems served as decorative elements when GM originally attached them, which gave the car distinguishing marks of recognition. These emblems were part of the appearance package on each of the models, so they have become status symbols when restoring a car. Hood emblems, horn caps, seat emblems and wheel spinners all denote the model of your Nova. You want parts that fit, so you want to add reproduction parts that are made to factory specifications. H&H Classic offers reproduction parts that are designed to fit you model. Whether you need a glove box emblem, trunk emblem for an SS or a quarter panel 400 series emblem, you will find all your Nova emblems here.