Do I Have A Hardtop Or A Sedan?
This is a question we ask a lot at H&H, because we are trying to make sure you get the correct parts. A common response is "I don't know, it has a hardtop top on it". Well just because it has a hard metal skin doesn't make it a Hardtop.
As most of you know the Hardtop is also referred to as a Coupe or as a Sport Coupe, depending on what year models we are talking about. The main difference is that sedans have a hard frame all the way around the door glass that the glass rolls up into. In a hardtop, the glass just stop at the top of the door with bare glass or with a chrome frame around it.
Another way that you can put it is if the door and quarter glass is rolled all the way down can you run your hand from the vent window to the back of the car without touching any part of the body. If you can then this is a Hardtop. If your car has a hard metal post that stops you, then you've got aSedan.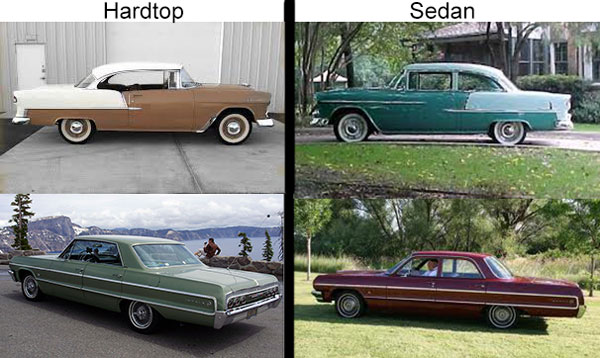 Keep in mind starting in 1956 GM built what was a four door hardtop also called a Sport Sedan. This had the same principle as the two door version just with four doors. So the next time your salesman asks you if you have a Hardtop orSedanjust keep these simple ways in the back of your mind. Well that's all for this month. Have a great March and remember to get those rides ready for spring cruising. It's almost here!
Reader Comments (2)
I would go for a Sedan, personally. Mainly because the dissertation writers uk use a Sedan as well and they are very satisfied with it.
jones
10/18/17 02:14:09 PM
I always go for a hardtop. I put my 3D Virtual Reality Glasses in it as well while traveling and I don't encounter any problems with the hardtop.
Post Comment
You must login to post comments.