H&H Classic Parts
»
Dynacorn International LLC
Dynacorn is a leader in reproduction sheet metal for muscle car and hot rod enthusiasts. They have been in business since the 1980s and are well known for the quality of their parts. Their tooling is unique and the fit of their parts is superior. They manufacture quality bright trim, moldings and only use quality sheet metal in their manufacturing.
They're known for their Dynacorn bodies, trim pieces, brackets and other parts that are a perfect restoration part for classic Chevys and more. At H&H Classic, we carry Dynacorn because they're quality parts that we can rely on, and our commitment to you is to offer the best part for the best price with the fastest shipping. We offer free technical assistance from our experienced staff if you have any questions about any part for your classic Chevy. Find your part - browse the Dynacorn catalog today.
---
Browse Window Handles
Products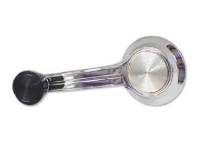 Sold as Each
Description:
1965 Chevelle or Malibu or El Camino 1965-1966 Nova or Chevy II Nova
Limited Supply:
Only 2 Left!
Sold as Each
Description:
1962-1964 Nova or Chevy II
Limited Supply:
Only 8 Left!