H&H Classic Parts
»
Kee Auto Top Mfg

---
Kee Auto Top Mfg Categories
No matter if you're looking for a hood latch support for your Bel Air or want to sport a H&H Classic Parts hat or t-shirt to show everyone where you buy your classic Chevy parts, we have the...
More Details »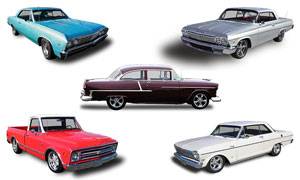 The classic Chevy is an American institution that has worldwide appeal. From the Tri-Fives of the 1950s to the muscle cars of the 60s and 70s, these cars and trucks are found in a variety of...
More Details »
---
Kee Auto Top Mfg
Products

KIT
Description:
1966-67 Chevelle or Malibu Convertible with Glass Back Window
Limited Supply:
Only 1 Left!
This is a close out item, non returnable!!!