H&H Classic Parts -
Steering Arms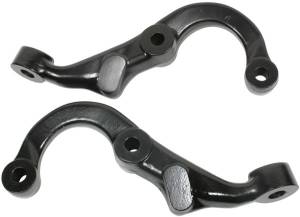 The steering arms for your Classic Chevy Camaro in this section are correct reproductions that bolt to the back of the spindles and are high quality restoration parts provided to H&H from Classic Performance Products (CPP). CPP is known for great parts for suspension and brake systems, among others. That being said, you won't be disappointed in the steering arms you order for your old Camaro. After all, you don't want something inferior when it comes such a vital component on your restoration project. And as with any of the parts we offer, if you have any questions or concerns just give us a call at (479) 787-5575 or submit an inquiry. We'd love to help in any way that we can!
Browse Steering Arms
Products
Sold as Each
Description:
1967-1969 Camaro
Limited Supply:
Only 0 Left!
Sold as Pair
Description:
1968-1974 Nova or Chevy II 1967-1969 Camaro
Limited Supply:
Only 1 Left!
---