H&H Classic Parts -
Wiring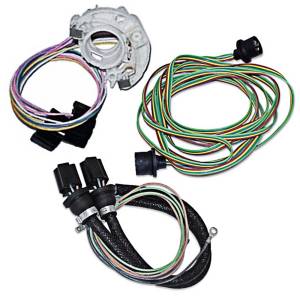 The long history of Chevrolet trucks goes back to the 1940s with the Advance Design series of trucks, before the iconic Task Force took the stage between 1955 and 1959. From there, the C/K series carried on until 1999.
When you have a classic truck that you're getting ready for a show or parade, you want to make sure to replace all of the worn parts with vintage Chevrolet truck parts. The electrical harness is susceptible to rodents and other damaging forces if the truck has been in storage for a long time. Wires can become exposed due to cracking or deterioration of the coating. If you don't replace the wiring while restoring your Chevy truck, you may end up with a short that causes more problems.
Some of the wiring you may want to replace includes the AC and heater connections, the backup light wiring and the cargo and dome light wiring. Other wiring and harness kits are available for your truck, including the original wiring kits.
At H&H Classic, you'll find a large selection and low prices on all of our restoration Chevy parts and accessories. You'll also enjoy fast, affordable shipping. If you don't know what part you need, just ask. Our experienced staff is here to provide assistance.
Select a Sub-Category
Wiring
Featured Products
Sold as Each
Description:
1967-1972 Chevy Truck or GMC Trucks
1970-72 Chevelle or Malibu or El Camino
1970-72 Chevele SS or El Camino SS
1968-74 Nova or Chey II
Sold as Each
Description:
All using Spal Fans (H&H part number 3786)
Limited Supply:
Only 5 Left!
Sold as Each
Description:
All using Spal Fans (H&H part numbers 3782-3783,3784,3785)
Limited Supply:
Only 5 Left!
---