H&H Classic Parts
»
OER (Original Equipment Reproduction)

Original Equipment Reproduction - OER® - is the leading manufacturer and distributor of quality classic automotive restoration parts and accessories. OER® products are meticulously manufactured to replicate the OEM appearance, quality, and fit that meets or exceeds the original factory specifications. If you're needing arm rests, arm rest bases, accelerator linkage parts, window moldings, lens gaskets, ball joints, battery cables, body mounts, a console emblem, a convertible top assembly, or other OER part then let H&H help you with your needs. We strive to offer the best prices with the fastest shipping in the industry!
---
Browse Rocker Molding Clips
Products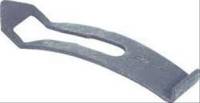 Sold as Kit
Description:
1970-1981 Camaro With Narrow Molding
Limited Supply:
Only 0 Left!