H&H Classic Parts
»
Jim Osborn Reproductions
Jim Osborn Reproductions produces some of the highest quality reproduction decals and stickers for classic Chevy cars and trucks and H&H Classic Parts is proud to supply them to you! If there's a part on a classic vehicle that can take you back in time quickly it's a vintage decal. After all, the design of classic car decals and stickers are just as timeless as the vehicle itself and these old stickers just scream old school cool. Decals and stickers seem to get scratched and worn faster than any other part on the vehicle, as well as just not being able to stand the test of time due to weather or abuse from maintenance. Don't wait to place your order and restore that vintage look and feel to your classic ride. Not only are these classic decals and stickers of the highest quality we are proud to say that they are also Made in the USA! They do a fantastic job on these decals and you definitely won't be disappointed in your purchase! Got a question about any of the Jim Osborn Reproductions parts that we carry here at H&H? Give us a call at 479-787-5575 or submit an inquiry and we'll be happy to help with any concern that you might have.
---
Browse Exterior Decals
Products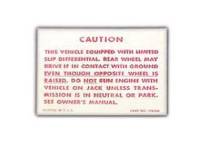 Sold as Each
Description:
1957 Bel-Air or 210 or 150 All with POSI-TRACT 1958-1963 Impala or Bel-Air or Del-Ray or Biscayne All with Positraction
Limited Supply:
Only 3 Left!