H&H Classic Parts
»
Trim Parts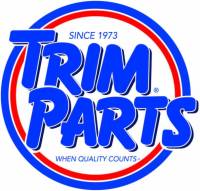 Trim Parts USA manufactures GM licensed reproduction trim parts like molding and emblems for classic Chevy cars and trucks. They use the original tooling from GM in all the parts that have tooling available. You will find all the Trim Parts USA parts you need to add the finishing touches to your classic Chevy below. And remember, don't hesitate to call us at 479-787-5575 or submit an inquiry with any question that you might have, technical or otherwise. We're not just here to take your order, we're classic car and truck enthusiasts too!
---
Trim Parts Categories
---
---
More About
Trim Parts
Since Trim Parts USA has been licensed to use the original tooling from GM, they are able to present a product that has been created to meet the original manufacturer's part standards. When there is original tooling unavailable, Trim Parts USA engineers design their own tooling that meets the original GM guidelines. At H&H Classic, we carry the Trim Parts USA parts that have been created to help you finish your classic Chevy car or truck. It is more than door moldings that help to finish your car. You will find emblems, lens, bezels, air conditioning control parts and other trim pieces that have been reproduced to the highest standards. Since their slogan is "When Quality Counts", you know you are using a part that is specifically created to ensure a secure fit. Their parts are hand-assembled and each piece is inspected to ensure that it is of the best quality available. Trim Parts USA products carry a full guarantee against defects during manufacturing. Whether you are adding a new backup light lens, an air cleaner emblem or side bed emblems, you will find that Trim Parts USA really mean it when they say that quality counts.