H&H Classic Parts
»
Gene Smith Reproductions
While building cars back in 1973 and needing parts, Gene Smith began manufacturing the tri-five parts that he needed for customers cars that he was building. And who better to get the parts from that YOU need than another enthusiast? You can bet that the parts that you order are going to be of the highest quality when the manufacturer demands the best for their own builds. When other companies are spending their money on advertising, Gene Smith Reproductions invests in high quality tooling to be able to produce high quality parts. Not only do they produce the same parts that GM made in stainless, they also produce parts that they feel GM should have produced in stainless. Using the hot chamber die casting method Gene Smith Reproduction parts are built lighter and are all more consistent than other methods. The hot chamber method is also much like the same process that the factory used to make the original parts for classic Chevy tri-fives ensuring that the parts are as close to original specs as possible. Knowing all of that, we here at H&H had no choice but to partner with Gene Smith Reproductions as a distributor. We demand quality parts for our customers and that's exactly what Gene Smith Reproductions provides. Quality.
---
Browse Oil Filler Caps
Products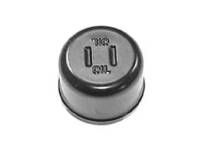 Sold as Each
Description:
1955-1957 Bel-Air or 210 or 150 All V8 (Except 2x4 or FI) 1958-1966 Impala or Caprice or Bel-Air or Del-Ray or Biscayne All V8 1964-1966 Chevelle or Malibu or EL Camino All V8 1962-1966 Nova or Chevy II All V8
Limited Supply:
Only 4 Left!