H&H Classic Parts
»
Old Air Products

Old Air Products has been providing quality AC, heat, and defrost systems and parts since 1989 with the intention of building a system that would fit any vehicle. They found that due to the vast variety of vehicles and personal choices of the vehicle owners that they needed to provide a system that would allow their customers to customize the system to fit either stock or custom automobiles. With parts for older vehicles getting harder to find and with government regulations for auto refrigerants becoming more strict, Old Air Products started supplying replacement parts for many original factory AC systems. Many over the parts that they provide to H&H are exact replicas and outperform the originals. Not only that but over the years Old Air Products have developed many products that enhance the factory systems and replace no longer available parts. Old Air Products commitment to quality and "cooling the classics" makes them a perfect fit for H&H! And remember! Don't hesitate to call us at 479-787-5575 or submit an inquiry with any question that you might have, technical or otherwise. We're not only here to take your order, we're here to help. After all, we're classic car and truck enthusiasts too!
---
Browse Radiator Fan Shrouds
Products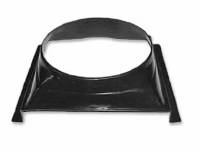 Sold as Each
Description:
1955-1959 Chevy Truck or GMC Truck
Limited Supply:
Only 1 Left!