H&H Classic Parts
»
American Retro

American Retro Steering Wheels and H&H Classic Parts has teamed up to bring you an awesome reproduction steering wheel with an all new size! American Retro has been designing and manufacturing reduced diameter steering wheels for classic cars since 2000. These classic looking steering wheels are built to replace the original stock eighteen inch steering wheel using all of the original horn, nuts, and directional parts! They come with a chrome horn ring and a center cap and have been built to fit original and aftermarket steering columns by just bolting on! Imagine replacing your original 18" wheel with a new 15" wheel that looks just the same! You'll love the look but better yet, you'll love having better control as well as the additional space that you will gain by the size difference! And remember! Don't hesitate to call us at 479-787-5575 or submit an inquiry with any question that you might have, technical or otherwise. We're not only here to help, we're classic car and truck enthusiasts too!
---
American Retro Categories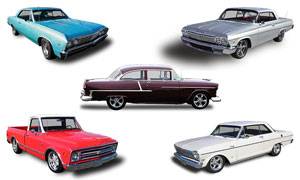 The classic Chevy is an American institution that has worldwide appeal. From the Tri-Fives of the 1950s to the muscle cars of the 60s and 70s, these cars and trucks are found in a variety of...
More Details »
---
American Retro
Products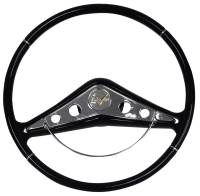 Description:
1958-60 Impala 1958 Delray 1958-60 Belair 1958-60 Biscayne
Limited Supply:
Only 8 Left!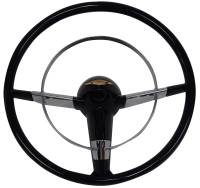 Description:
1955-56 Belair 1955-56 210 1955-56 150
Limited Supply:
Only 6 Left!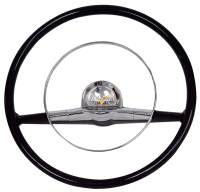 Description:
1957 Belair 1957 210 1957 150
Limited Supply:
Only 6 Left!