H&H Classic Parts -
Horn Ring Emblems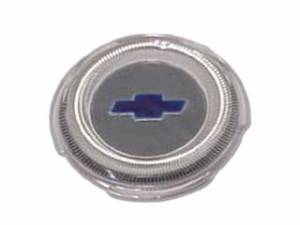 You could say that the emblem in the middle of the horn cap of a Classic Chevy Camaro is the heart of the steering wheel. That iconic Chevy bowtie logo may be exactly what you are needing for your 1967 Camaro. Or maybe you're needing the SS emblem for your 1969 Camaro SS. Whatever you are needing for the horn cap of your old Chevy, H&H can help. Check out this section of horn ring emblems. All of these parts are of great quality and are at great prices. You won't be disappointed when you receive yours! And don't forget that if you have any questions about any of our part, or the installation of them, then you can always submit inquiry or give us a call at (479) 787-5575. That's what we are here for!
Browse Horn Ring Emblems
Products
Sold as Each
Description:
1967 except Impala SS 1967 Malibu 1967 Camaro
Limited Supply:
Only 6 Left!
Sold as Each
Description:
1969 Impala SS All 1969 Chevelle SS or EL Camino SS All 1969 Nova SS All 1969 Camaro SS
Limited Supply:
Only 3 Left!
---