H&H Classic Parts -
Complete Lock Sets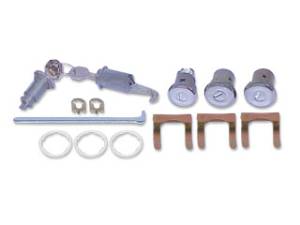 There's nothing more frustrating than trying to keep up with multiple keys for one thing. If you're dealing with this for your classic Chevy Camaro then let H&H help with these complete lock sets! New locks for your door, trunk, glove box, and ignition! They also come with the lock gaskets and 2 keys that work in all of the locks! And at our prices you'll always get a great deal on parts! Being enthusiasts ourselves, we know the importance of getting the right part the first time so remember, if you have any questions feel free to submit an inquiry or call the shop at 479-787-5575 to speak directly with one of our experts. We're not just here to sell parts, we're here to help you get the right parts, right now, and have an outstanding shopping experience in the process!
Browse Complete Lock Sets
Products
Sold as Set
Description:
1966-1967 Nova or Chevy II 1967 Camaro
Limited Supply:
Only 5 Left!
Limited Supply:
Only 3 Left!
Limited Supply:
Only 4 Left!
---