H&H Classic Parts -
Glass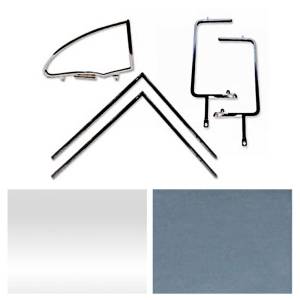 The glass in your Tri-Five is made to keep the elements out and the interior safe and clean. You want the glass to be clear so you can see while you're driving, but glass can become weathered or cracked on cars that have been sitting in storage. Even the smallest of cracks means that you need to replace the entire glass. Replacement Tri-Five Chevy glass is made using the same factory specifications that General Motors required in the 1950s, down even to the color of factory glass. We have quarter glass, windshields, side glass sets, and more.
When you need Tri Five Chevy parts, order from H&H Classic. They are the leader in reproduction Chevy parts. They have been in the automotive industry since 1971 and offer low prices and fastest shipping on classic Chevy parts. Order your replacement Tri Five glass today.
Select a Sub-Category
---
---
More About
Glass
The Tri-Fives not only had a lot of room inside, they had a great view of the outside. The Tri-Fives were filled with enormous, wide windows and rear glass. The windshield was wide and wrapped on the sides. There were wing windows and the Nomad had long windows in the wagon bed. When you restore your Tri-Five, you want to use glass that is designed specifically for these cars. You want someone who knows how a wagon window is supposed to fit to reproduce those side windows for you. Since not all glass is clear, you also want the right color glass when you put a new windshield on your Bel Air. You want your wing or vent windows to be the right size and to fit the trim. At H&H Classic, you will find all the glass parts you need in our Tri-Five glass section. We carry individual pieces like the back glass, windshield, quarter glass and vent windows, and we carry complete kits. You can buy all the glass you need for your Tri-Five at one time when you purchase a kit. Whether you need the side glass, a wing window or the entire glass pieces for your car, you will find everything you need here.