H&H Classic Parts -
Emblems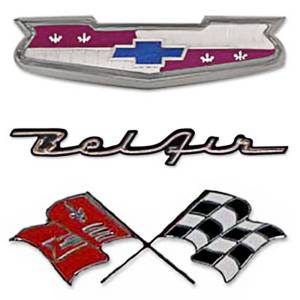 The Tri-Five lineup included some of the most iconic cars in American history. Models like the Bel Air and the Nomad could be seen at the malt shops and drive-ins. Today, they're staples on the car show circuits. As you restore your Tri-Five, you want to pay close attention to every detail like trim pieces and emblems. H&H Classic carries Tri-Five parts.
The emblems are some of the final touches on your vintage Chevy that make them showroom ready. These small details add value to your vehicle by making the restoration authentic. Emblems may be missing after years of storage; some people actually steal them from vehicles and use them for home décor. We have replacement emblems like dash emblems, fender emblems and grille ornaments. We also have under taillight emblems and hubcap emblems.
H&H Classic carries a large selection and low priced classic Tri-Five parts. We also offer fast shipping and easy returns. Buy now.
Select a Sub-Category
---