H&H Classic Parts -
Sheet Metal Body Parts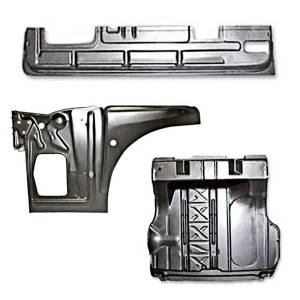 What's the best thing about classic cars? They're made of real metal because they're real cars! Now what's the worst thing about classic cars? They're made of real metal, so they really rust! Not to mention, when you have a metal bodied car like the Tri-Five, damage from an accident (no matter how minor) can be extremely hard to 'just repair' like you can with modern vehicles. Although no paint job looks as good as it does on a real metal bodied car, it can be nearly impossible to repair body parts. Replacement is usually the only option to restore the body lines.
In our selection of classic car parts for Tri-Five models, you'll find sheet metal body parts such as: door skins, fender patch panels, fenders, floorpans, hoods, quarter panels, and rocker panels.
Find these parts and more in the the Tri-Five online catalog of H&H Classic Parts. We offer the best selection of restoration parts, like sheet metal parts, around. Get your sheet metal body parts for your Tri-Five now!
Select a Sub-Category
Sheet Metal Body Parts
Featured Products
Sold as Each
Description:
1955 Bel-Air or 210 or 150
This is a special order item and is drop shipped direct from the manufacturer to you!!
---