H&H Classic Parts -
Vintage Air Gen II Universal Kits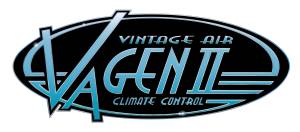 You want to run as cool as your Tri-Five, so you know that by updating that air conditioning system using a Vintage Air universal conversion kit, your classic Chevy will be cool inside and on the outside. You can find all the parts you need below to deliver that ice-cold air.
Browse Vintage Air Gen II Universal Kits
Products
---
---
More About
Vintage Air Gen II Universal Kits
Whether you need the fully electric Gen II super unit or a simple duct adapter, you will find them at H&H Classic. We even carry Gen II mock up kits which allow you to try before you buy. If you are not sure whether the unit will fit your vehicle, take one of the kits and try it on for size. You can return it, and we will give you credit towards the actual Gen II system. The Gen II system is fully electronic and uses no cables. Vintage Air is owned by street rodders who have been in the industry for over 30 years. They specialize in high performance air conditioning systems and utilize the latest technology in their creations. The latest Gen IV system is run by an electronic microprocessor that eliminates the need for cables and vacuum connections. The system utilizes an aluminum plate, copper parallel-flow heat coil and fin cooling coils in order to deliver performance and temperature adjustments. The Gen IV Magnum can cool even the biggest sedan or wagon. Vintage Air is one of the most respected names in performance cooling. We carry conversion kits, ducts and customizable control panels for your Tri-Five.