H&H Classic Parts -
Vintage Air AC Vents & Louvers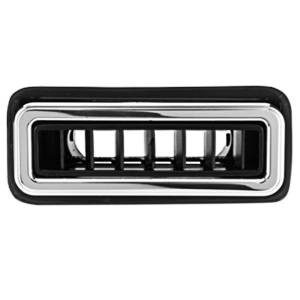 It is just as important to stay cool inside your Tri-Five as it is to look cool on the outside, so you when you are ready to get the air flowing through the cockpit of your classic Chevy, you will find Vintage Air vents and louvers deliver the air you need. You can find all the vents and louvers you need below.
Browse Vintage Air AC Vents & Louvers
Products
---
---
More About
Vintage Air AC Vents & Louvers
You spent a lot of time restoring the interior of your Chevrolet, and you want everything to be just right. When you add a Vintage Air part, you get a part that is made to fit your vehicle, and they come in a variety of styles to suit your needs. Whether you need a round louver with a billet bezel or a 4.875" louver for your dash, H&H Classic has the right part to complete your interior restoration. These stylish louvers control the amount of air that circulates through the cabin of your car. The addition of modern vents to the interior of your car adds that finished look to it. Vintage Air is owned and operated by street rodders who have been involved in the sport for over 30 years. They have spent that time developing a comprehensive high performance line of air conditioning components, which includes entire conversion kits. We carry a line of Vintage Air vents and louvers designed to send the right amount of cool air through your vehicle. Find the perfect match for your interior from our selection of vents and louvers.