H&H Classic Parts -
Grille Parts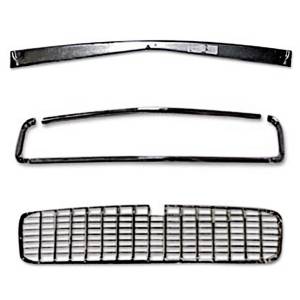 The Tri-Five lineup includes 1955 through 1957 Chevrolet passenger cars that found popularity due to their interchangeable engines that allowed for customization of horsepower and performance. These cars quickly gained audiences on the drag strips and at the drive-in. These cars are icons of Americana and enthusiasts have spent years restoring them. H&H Classic carries Tri-Five Chevrolet parts.
The grille keeps the engine compartment safe from debris, as well as allowing for fresh air to flow through the opening. The grilles are tough, but after years of storage, they may need replacement due to missing parts or dents. If you're showing your Tri-Five, you want a new grille on it. Each part is a restoration Tri-Five Chevy part that will bring new life to your vehicle.
H&H Classic has been selling classic Chevy parts since the 1980s and is family-owned and –operated. Ask for free technical assistance from our experienced parts staff if you have questions. We offer fast shipping and easy returns. Order today.
Select a Sub-Category
---