H&H Classic Parts -
Hub Caps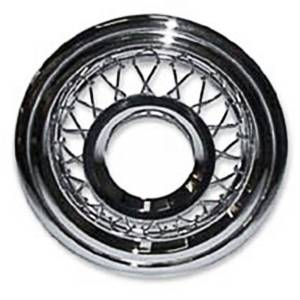 Replacing the original hubcaps is probably the last item on your restoration checklist, but the original hubcaps matter. They show that you have paid attention to every little and last detail on your classic Chevy. This will make your Chevy look complete and earn points at car shows. In today's world of modified cars, the original hubcaps will make your vehicle a stand out .
Original replacement hubcaps are the same materials as the originals — i.e. steel, aluminum, etc., and they have the same finish as the originals - i.e. cast, polished, etc. They also fit the same way as the original Chevy hubcaps, and all the details are the same. For example, if the original had painted bowties, a correct replacement will as well.
To learn more about which hubcaps are correct for your Chevy, check out our hubcap guide here. Search your model and year to find descriptions, specifications and pictures of original Chevy hubcaps.
Shop for your Chevy hubcaps at H&H Classic Parts - we have a great selection of Chevy hubcaps and parts. Buy yours now to complete or start your restoration project!
---