H&H Classic Parts -
Transmission Conversion Mounts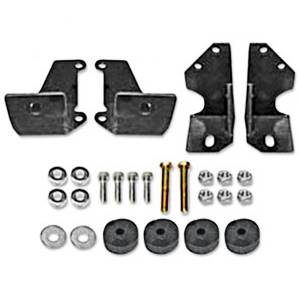 Because the Chevrolet Tri-Five is so immensely popular and sought out by custom car builders, hot rodders and restoration enthusiasts, it only serves to reason that many car owners have done a lot of customization of these classic Chevys. If you have one of these in your garage, and you are making transmission changes, you may need to put a conversion kit on it in order make the transmission fit. You will find the parts you need here.
Browse Transmission Conversion Mounts
Products
---
---
More About
Transmission Conversion Mounts
The engineers at Chevy not only offered the Tri-Five owners several choices in horsepower, they also gave them transmission choices. The transmissions came with options like a 3-speed with overdrive or the Powerglide or Turboglide on the 283 V-8. Each transmission was designed to handle the power from the engine for a smooth ride with no loss of power. If you are modifying your engine, and you need to make a change to your transmission, you will find the parts you need to ensure that your transmissions sits as it should once it is changed. H&H Classic specializes in classic Chevy parts, and we can help you with your transmission conversion. Whether you need a crossmember or a crossmember bracket kit, you will find it here. We have parts that include the transmission side mount conversion kit or a regular transmission mount kit. No matter which engine you have in your Tri-Five, you will find all the parts you need to make any conversions necessary to handle a change in transmission here.