H&H Classic Parts -
Door Panel Cardboard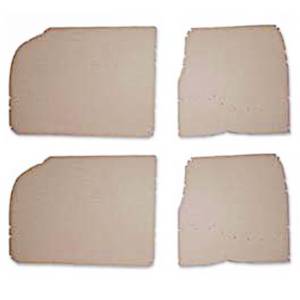 If you're restoring the interior of your Tri Five, these cardboard templates are handy to have. The use of the cardboard panels ensures exact fit of new interior 1955 Chevy parts. Browse our selection of 1955 chevy parts and accessories to find the panels you need and all the other parts that make them work.
Here you will find:
B-pillar trim boards
Front door panels
Rear door panels
Door panel nails
Door metal edging
At H&H Classic, we have the Tri-Five parts you need. From 1955 Chevy parts though 1957, you'll find door panel cardboard cutouts for all Tri Fives. Get yours now to properly restore your interior.
Browse Door Panel Cardboard
Products
---
---
More About
Door Panel Cardboard
If you cannot restore the interior on your restoration project or you are completely changing out the interior of your car, you will want to make sure that the new pieces fit exactly as they should. The use of cardboard templates is a great way to ensure that your new pieces fit exactly as they should. Maybe you do not need to do the entire interior, so you do not need all the interior cardboard panels. You can buy what you need to finish your project. At H&H Classic, we carry parts for car enthusiasts working on their classic Chevys. You can buy B-pillar trim boards, front and rear door panels for the 4-door hardtop or front door panels for the 2-door convertible. You will also find door panel nails and metal edging for the front and rear doors that will finish off your doors once you add the new panels. You will find all the cardboard door panels you need for any model Chevy Tri-Five here at H&H Classic Parts.