H&H Classic Parts -
Chrome Bumpers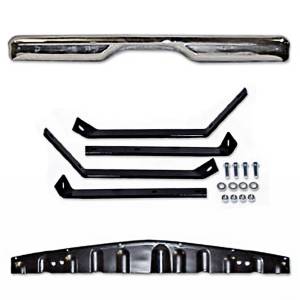 Classic GMC and Chevy trucks are big trucks that were designed to work on farms, in factories and make deliveries. These trucks have wide grills and large bumpers for both the front and the rear. When restoring or customizing one of these trucks, you want to use quality restoration bumpers and parts that were built specifically for these trucks and you can find them here.
Select a Sub-Category
---
---
More About
Chrome Bumpers
Bumpers were created to protect engines, radiators and body parts on cars and trucks. The bumper took the hit and kept the body from damage. The classic Chevy and GMC trucks had large wraparound bumpers in the front and rear. They kept fenders, grills and tires safe during crashes. There were no crumple zones on these older bumpers; they were just heavy-duty metal designed to take a hit. They took the brunt of the force and did not budge. Bumpers were part of the appearance as well. They were chrome, and they complemented the lines in the grill or the rear of the truck. The use of reproduction parts will go a long way to making your restoration or customization project good looking and safe. H&H Classic specializes in carrying quality reproduction parts. Whether you need the front bumper, rear bumper, bumper guards, brackets or filler pads, you will find all the parts you need to add new bumpers to your truck. Since they are reproduction parts, they will fit your truck. Everything you need in order to add bumpers to your truck is located here.