H&H Classic Parts -
Emblems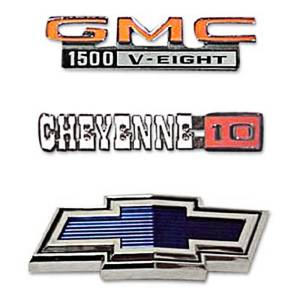 It's the little details that matter, as any automotive restoration professional will tell you. When you are finalizing your truck restoration, don't forget that it won't be show ready without the original Chevy truck emblems. These original emblems are the only choice when you want a perfect show finish, but it's not only about show appearance. It's also about taking pride in finishing off your project right.
Shop our catalog for:
OE quality emblems and decals
Emblems from popular brands like CPP, H&H Classic, and Trim Parts USA
Bed side, door, fender, grille, and hood emblems
Our quality emblems are not the same as cheap knock-offs. You might find some good "deals" on auction sites, but the quality is subpar. Knock-off emblems rarely pass a simple visual as the differences are obvious when you look them over. Something else to consider is they might not even fit in place. Chevy emblems were made to fasten or adhere in a certain way. Many knock-off emblems don't abide by those mounting points. You could even find yourself having to drill new holes to mount them. Buy quality emblems now to seal the deal on your latest restoration project.
Select a Sub-Category
Emblems
Featured Products
Sold as Pair
Description:
1969-1972 Chevy Truck Custom 20
Limited Supply:
Only 1 Left!
---
---
More About
Emblems
Restoring or customizing a classic car or truck takes a lot of time, and you want to pay attention to even the smallest of details. Whether you are selling the truck or showing the truck, if you have left out important details, you will get less money for it, or you may be passed over for an award at a custom car show. The emblems make all the difference in the world towards looking like a finished truck. You want new, reproduction emblems that will shine like the day they sat in the showroom. They will also look great against a brand new paint job. It is not just about the hood emblem; you also want the detail emblems like the ones found on the glove box or the fenders. These little pieces make the truck complete, and they add a lot of value to your hard work. H&H Classic offers quality reproduction emblems for the grills, fenders, glove boxes, truck bedsides and other places the factory displayed an emblem. Your custom truck will be showroom ready when you have completed it by adding these little details. You can find the Chevy and GMC truck emblems you need here.