H&H Classic Parts -
Grille Parts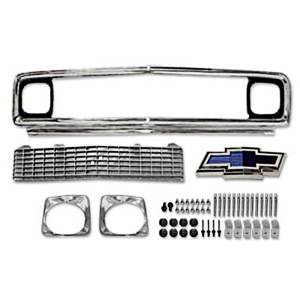 No matter what year your classic Chevy truck is, you want it to look its best. You have spent a long time restoring it and getting the motor just the way you want it. Whether you're building it to show, sell or race, the exterior of your truck should be perfect. Due to age or accidents, trim pieces on the front end of your truck can become damaged. For an award winning truck, replace the front trim or grille with vintage Chevy truck parts.
We have a large selection of truck parts like the blue bowtie emblem, all of the grille hardware needed to add a grille and the grille itself. We have grille kits and support panels. In addition to making your truck look good, the grille lets your engine breathe while protecting the vital moving parts.
When you buy your parts from us at H&H Classic, you get a large selection and low prices on all vintage Chevy truck parts. You also get fast, affordable shipping. Buy today.
Select a Sub-Category
---