H&H Classic Parts -
Firewall Grommets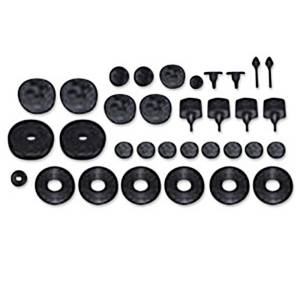 When you are restoring your classic GMC or Chevy truck, you want to make sure that all the wiring and cables are properly protected after you have finished wiring your truck. The use of grommets protects the wires and cables from sharp edges in your firewall. You will find all the firewall grommets you need below.
Browse Firewall Grommets
Products
---
---
More About
Firewall Grommets
When you run the wires or cables through the firewall in your classic Chevy or GMC truck, you want to protect them from damage. Running wires or cables through metal openings will subject them to damage if they rub against the raw metal edges for any length of time. This can result in a wiring short or a broken or frayed cable. Just the simple movement of the truck going down the road can cause wires and cables to be jostled against the edges of the firewall. By using firewall grommets, you can add that layer of protection to your wires and cables. Whether you are looking for a fuel line grommet that goes through the floor or an entire firewall grommet kit, you want to make sure that these parts will fit your classic truck as they should. They have to be the right diameter in order to fit properly. H&H Classic specializes in reproduction parts that are made to factory specs, so they will fit your Chevy or GMC customized truck. You will find grommets to fit your choke, throttle, emergency brake, the main wiring harness or any other wire and cable combinations here.