H&H Classic Parts -
Door Panel Sets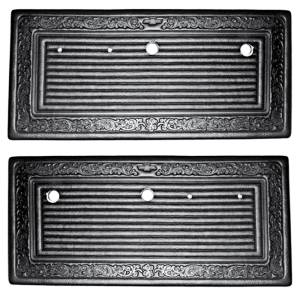 The classic Chevy and GMC truck of the 1950s is still as popular now as they were when they were being used on the farm or at the construction site. These trucks are sought after by classic and custom car enthusiasts who want to race or show them. When you do any restoration on your truck, make sure you replace door panels and such. H&H Classic carries restoration truck parts.
The door panel adds to the overall value of your truck by finishing off the interior. The door panels can become damaged during storage or just fade out over time. If you're going to show your truck, then restore and upgrade the interior for a showroom appearance. We have woodgrain, black scroll and blue side panels. We also have red, dark blue and dark green.
H&H Classic carries authentic restoration truck parts that help you get your truck parade ready. We specialize in classic Chevy parts and accessories, and we offer free technical assistance from our experienced staff We also offer fast shipping and easy returns. Buy now.
Browse Door Panel Sets
Products
---