H&H Classic Parts -
Headliner Trim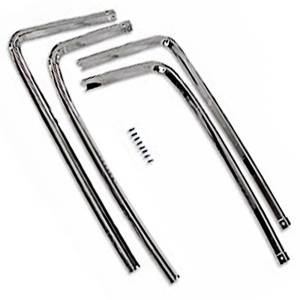 You have taken as much care to pay attention to the details of the interior of your restored classic Chevy or GMC truck as you have the exterior. An interior customization is not complete until you have added the trim products to the headliner. You will find all the trim products you need for your headliner here.
Browse Headliner Trim
Products
---
---
More About
Headliner Trim
The interior is as important to the completion of a custom truck as the exterior is to its overall appearance. When you redo the headliner in your truck, be sure to add all the trim pieces that will finish off the project. Whether you need the retainer rubber or the chrome trim, you will find that these pieces are specifically made to fit your classic Chevy or GMC truck. You only want to use parts that are designed for your make and model truck. At H&H Classic, you will find reproduction parts that are created specifically to fit the truck that you are restoring or hot rodding. Trim pieces are instrumental in keeping the headliner secure to the roof. A headliner serves to cover up padding or carpeting that has been added to the roof. If it sags, it can be a distraction to the driver, and trim parts will hold it in place. By adding the headliner and the trim parts, you will be adding value to your truck and giving it a finished look. You will find all the headliner trim parts you need here.