H&H Classic Parts -
Front Fenders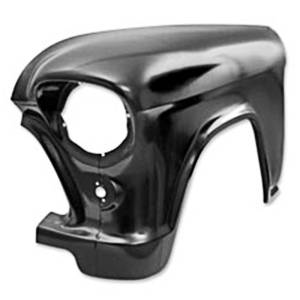 The classic Chevy and GMC trucks of the 1950s are still as much a part of the American landscape as they were the day they were new. These trucks are often found at car shows and in parades. They were a bit more than a work truck; they also offered owners a smoother ride than some of the earlier trucks. As you restore your truck, replace old, rusted body parts. H&H Classic offers a large selection of vintage truck parts.
The fenders protect the wheels from damage and help to solidify the body. Fenders stick out and are subject to damage from accidents. Trucks also are work vehicles, so there's a good chance that they've become damaged by construction or farm equipment. Rust can easily eat up a fender. We have fender parts for your truck, including the extensions for the left and right side. We carry inner fender liners, too.
At H&H Classic, you will find a large selection and low priced truck parts that will help you restore your classic truck. We have been in business selling classic Chevy parts since the 1980s. We also offer fast shipping and easy returns. Buy today.
Browse Front Fenders
Products
---