H&H Classic Parts -
1962-66 Moldings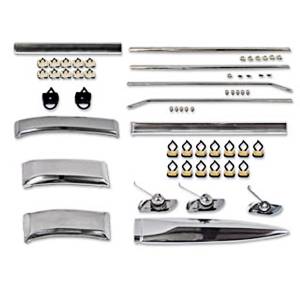 The 1962 through 1966 classic trucks were incredibly popular with the general population when they were new, thanks to their roomy interior and comfortable ride, as well as their hauling and towing capacity. Today, they are still popular, but this time, they are favorites on the car show circuit.
Some of the appeal of these trucks was due to the care that General Motors gave to the trim on the body. Not only did it add appeal to the overall look, it helped to protect the edges from paint damage to those sweeping lines. When you restore your truck, a new molding set will give your truck that showroom appearance.
In addition to high quality reproduction side molding kits and fender molding kits, you can add finishing touches like bed molding and side cab molding. H&H Classic carries all the restoration molding kits that you need to complete your truck project. H&H Classic has been in the business of classic Chevy parts since the late 1980s, and is run by the Smith family, who have been in the industry since the early 1970s. When you need classic Chevy parts, browse through our catalog and find a large selection and low prices. We also make it easy to buy with fast shipping and easy returns.
Restore your classic Chevy truck with one of these high quality molding kits. Shop now!
Browse 1962-66 Moldings
Products
---