H&H Classic Parts -
IFS Suspension Conversions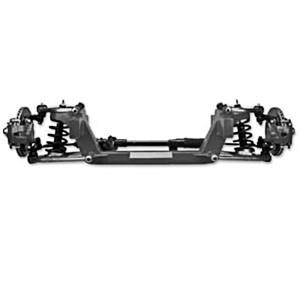 When you're restoring a classic Chevy or GMC truck, you want to make sure you replace all the parts that have become worn out or damaged over the years. In addition, you might want to consider replacing the entire suspension system for a smoother, more comfortable ride. An independent front steering suspension conversion will improve the suspension by adding more movability and smooth steering. It lets each wheel move independently, taking the bumps out of the ride. When you're ready to make upgrades or need classic truck parts, H&H Classic is the right place to shop.
We offer a large selection of parts and accessories for classic Chevy and GMC trucks. H&H Classic is owned and operated by the Smith family, who've been in the auto parts industry since the early 1970s. Shop today for your IFS conversion kit.
Browse IFS Suspension Conversions
Products
---
---
More About
IFS Suspension Conversions
What suspension you have under your truck will make all the difference in the world in how that truck rides. A dependent front suspension has a rigid front axle, and it makes for a rougher ride than an independent front suspension. The dependent suspension is normally used in trucks that are bearing large loads. You can switch over to an independent front suspension on your classic Chevy or GMC truck with one of these kits. They will make your ride so much smoother since each wheel is allowed to move independently. With the addition of independent movement, the wheels are no longer dependent upon each other for movement over rough terrain. This allows each wheel to absorb the shock independently, which results in a smoother ride.
When you make the conversion, you want a suspension that takes into consideration any modifications that you have done to the truck. H&H Classic carries reproduction parts and kits that are designed specifically for the classic trucks, so you know they will fit. Regardless of whether you need manual stock or power drop, you will find conversion kits and parts at H&H Classic.