H&H Classic Parts -
Tailgate Hinge Parts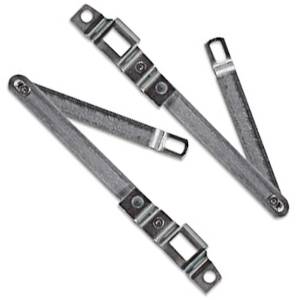 The classic Chevy and GMC truck has been a popular truck with both collectors and hot rodders. Over the years, it became more than a farm or delivery truck; it turned into an iconic truck on the American landscape. If you are one of the car enthusiasts who are in the process of restoring or customizing one of these trucks, you will want to use only the tailgate hinge parts designed to fit your truck that can be found below.
Browse Tailgate Hinge Parts
Products
---
---
More About
Tailgate Hinge Parts
The tailgates on these classic trucks were heavy since they were designed to be work trucks for farmers and businesses that relied upon the truck. The tailgates were designed to hold a lot of weight, which means that the hinges need to be just as rugged. When you add your tailgate back to your classic Chevy or GMC, you want to ensure that you use the hinges and parts that are designed specifically for the classic truck. The right fitting part means that your tailgate will not only be able to hold the weight it was designed to withstand, it will be able to open and close properly. H&H Classic carries a line of reproduction parts that are made to fit your truck. You will find tailgate parts for both the StepSide and FleetSide models. Whether you need to replace all the parts of the tailgate link assembly kit, or only add a handle, hidden latches or trunions, you will find all the parts you need for your tailgate here.