H&H Classic Parts -
Deluxe Weatherstrip Kits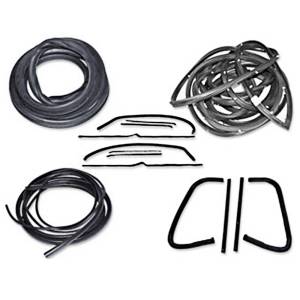 The classic Chevy or GMC trucks have become a popular truck among those who enjoy customizing or hot rodding a full-size truck. Whether it is one of the Apache trucks or a 1960s Suburban, the weatherstripping has to fit. You will find all of the weatherstripping that you need to seal up the windows on your classic truck here.
Browse Deluxe Weatherstrip Kits
Products
---
---
More About
Deluxe Weatherstrip Kits
The trucks of the 1950s and 1960s had large windshields that allowed the driver and passengers greater visibility. All of that glass means that you need to properly seal it or risk the chance of a leak. The weatherstripping needs to be made specifically for the truck you are putting it on, or you run the risk of it not being sealed properly. Incorrectly sealed windows allow water to leak in, which will ruin the interior of your vehicle and can cause rust if it sits on metal for any length of time. From the classic Chevy trucks of the 1950s to the more modern Chevy Blazers, you can find a weatherstrip kit that includes all the parts you need to seal the windows. These weatherstrip kits are specifically designed for the classic Chevy or GMC truck to ensure a proper fit. H&H Classic is a respected name in reproduction parts for classic Chevys and carries parts that fit these trucks. Whether your truck needs a weatherstrip kit that will accommodate chrome trim, or you only need a secondary weatherstrip kit, you will find a kit at H&H Classic.