H&H Classic Parts -
Grille Parts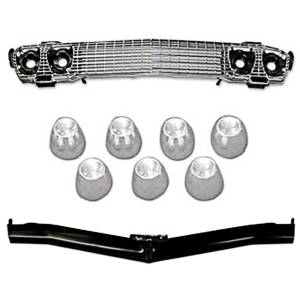 The Chevy Impala made its debut in 1958 and since that date, it has found its way to record-breaking sales and popularity. Despite the year, the Impala impresses with its strong exterior lines and high performance engine. The Impala is well represented at car shows, in parades and updated models are still sold to this day. The grille has undergone a number of changes over the years, but no matter which classic model you're restoring, we have a grille and grille parts that will fit. From brackets to molding, H&H Classic has classic Chevy Impala grille parts.
The grille is instrumental in not only allowing air to flow into the engine component, but in adding aesthetics to the overall design. These parts can become damaged over time as a car sits or if there's an accident. We've got the parts you need to restore the front end. These parts are made to fit the Impala, and they include emblems and the entire grilles.
H&H Classic is committed to bringing you the best part at the best price with the fastest shipping, so you know you are getting a top-of-the-line classic Chevy part. We offer a large selection and low prices, as well as fast shipping and easy returns. Get your grille back in shape and make your Impala ready for the car show.
Select a Sub-Category
---