H&H Classic Parts -
1963 Moldings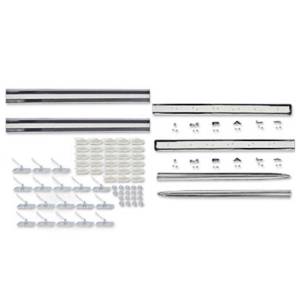 The 1963 Chevrolet Impala is the most sought out body style of all the Impalas that rolled out of GM. This body style included lines and a hood that were sharp and stylish, and if you are restoring or customizing this popular car, you want to accent those lines in the body. You will find all the moldings you need for your project below.
Browse 1963 Moldings
Products
---
---
More About
1963 Moldings
Body moldings serve two purposes when they are added to a vehicle. They are designed to protect the edges of doors and other places where paint can be chipped. When paint chips on an edge, there is the possibility that rust can start where the metal is bare. The other reason to add moldings is to accent the lines in the vehicle. On the 1963 Chevrolet Impala, the engineers designed a body with a lot of sharp edges. The body side moldings not only accented these lines, they helped to protect the body from damage that can occur when they are hit by shopping carts, car doors or other things banging against the car. You want to use moldings that are made to fit, or you will not get the protection from them that you need. H&H Classic specializes in reproduction parts that are designed specifically for classic Chevys, so you know these moldings will fit your 1963 Chevrolet Impala. Whether you need the door moldings, fender moldings for a 2-door or the entire side molding set for an SS, you will find the right fitting molding here.