H&H Classic Parts -
Wiring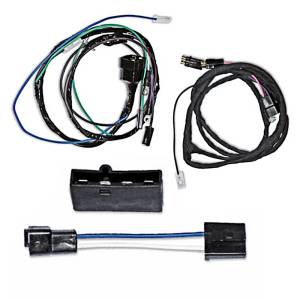 The Chevrolet Impala is the best-selling passenger car in the United States and has been in production since 1958. It came in a Caprice trim line that went on to be its own success story. While these cars are still in production today, the classic Impalas also have a place in American history as they helped people leave their homes and explore this country. When you restore your Impala, it's good to look over all of the wiring to be sure that it is sound. H&H Classic can help you with your restoration Impala parts and accessories.
The wiring on your Impala may have deteriorated over the years, especially if the car has been sitting in storage somewhere. When you start to work on the car, you might want to begin by checking out the wires. We have all of the wiring kits you need like the engine harness, front light harness and tach harness.
At H&H Classic, we offer a large selection and low prices on all of our vintage Impala parts. We have been in business since the 1980s and are focused on classic Chevy parts and accessories. We also offer you fast shipping and easy returns, so shop now.
Select a Sub-Category
Wiring
Featured Products
Sold as Each
Description:
All using Spal Fans (H&H part number 3786)
Limited Supply:
Only 5 Left!
Sold as Each
Description:
All using Spal Fans (H&H part numbers 3782-3783,3784,3785)
Limited Supply:
Only 6 Left!
---