H&H Classic Parts -
Console Parts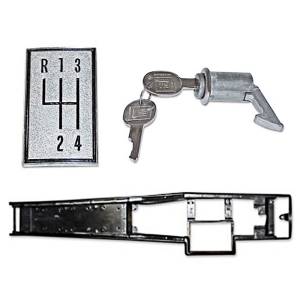 The Chevy Chevelle was in production between 1963 and 1977, and it became well known on the streets as a muscle car. You will still find these cars in most of the car shows across the United States, and if you are restoring your Chevelle, you want to replace any worn part like those on the console with restoration Chevelle parts. H&H Classic carries a large selection of Chevelle parts.
The console is home to the shift knob and storage compartments. The console is also subject to wear and tear, so it can fade, crack and otherwise wear out with age. The metal can become aged, pitted and worn out. When you do any restoration work, you'll want to replace things like clock parts, shift boots and console bases. A new console assembly kit will bring new life to your vehicle's interior. H&H Classic carries a number of Chevelle parts like these and offers you fast shipping and easy returns. We also have an experienced parts staff that will give you free technical assistance should you need it.
Select a Sub-Category
Console Parts
Featured Products
Sold as Each
Description:
1970-1972 Chevelle or Malibu or El Camino with Console
Limited Supply:
Only 1 Left!
---