H&H Classic Parts -
Ignition/Door Lock Sets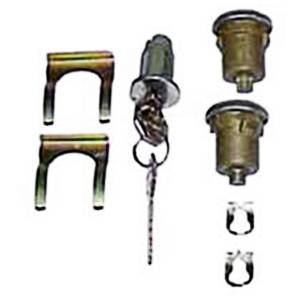 When Chevrolet rolled the Chevelle out in 1964, they may not have realized that this nameplate would go on to be one of their most successful cars. With a range of models that were suitable for both families and those who enjoyed a powerful muscle car, they had to create ignition switches and door locks for each model. The door lock and ignition sets you need for your classic Chevy Chevelle can be found here.
Browse Ignition/Door Lock Sets
Products
---
---
More About
Ignition/Door Lock Sets
There were no electric door locks when the Chevelle was introduced, and the keys were designed to fit both the locks and the ignition. Because there were several models and body styles, the keys were made to fit the model. The keys are sold in sets, so when you decide to put a new door lock on the car, you want to change out the ignition switch as well. The door lock must fit the body, or there will not be a good fit on the door, which can cause the seal around the lock to fit improperly. Water can get into a lock that is not properly sealed, and that can cause internal damage, like rust, to the door. H&H Classic only carries parts that are made to fit the model of your Chevelle, so the door lock and ignition switch will be a proper fit. Whether you have a 4-door 1966 Sport Sedan or a 1968 hardtop coupe, you will find all the lock parts you need for the ignition and the doors.