H&H Classic Parts -
Steering Wheel Parts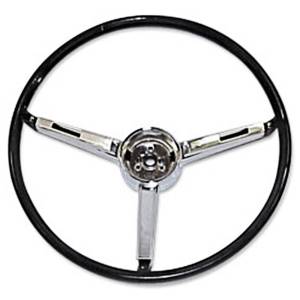 The Chevrolet Chevelle was as attractive inside as it was on the outside, which may have helped it become one of Chevy's most popular models. When you are restoring or customizing your Chevelle, you want to add a steering wheel that is attractive and fits as well as the original factory installed wheel. You will find all the steering column parts you need to fit your Chevelle here.
Browse Steering Wheel Parts
Products
---
---
More About
Steering Wheel Parts
The steering wheel is more than a necessary part of the steering system in a car; it is a statement in some cases and a decorative item in others. There are any number of styles and colors that are used in vehicles and the ones that Chevrolet designed for the Chevelle went well with the car's muscle and power. If you are restoring or customizing your Chevelle, you will want to ensure that you update or replace an old steering wheel. Older steering wheels can have wear spots or cracked coverings. You want one that fits, so that you do not need to modify it, and you want one that is attractive. H&H Classic specializes in classic Chevy parts, like the Chevelle steering wheel, that are designed to fit these cars. The steering column is more than the wheel. It is also the shroud and hubs. You need the wheel to attach to the column and there needs to be a place for the horn. When you are ready to update the interior of your Chevelle, you will find the steering wheel and parts here.