H&H Classic Parts -
Floor Mats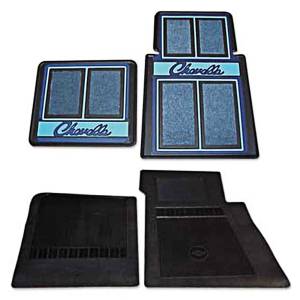 The introduction of the Chevy Chevelle captured the imagination of car enthusiasts everywhere. With its powerful engine options and muscular design and lines, these muscle cars are still popular with those who restore and customize hotrods. If you are in the process of restoring your classic Chevy, you want to add floor mats and sound deadeners that are designed for the Chevelle, which can be found in this section.
Select a Sub-Category
---
---
More About
Floor Mats
The interior of your restoration project is not complete until you add the final touches to the interior of the car, and the mats do more than make the interior look nice. They are also designed to help deaden sound from underneath of the vehicle. Floor mats come in rubber and carpet and fit the front floor wells. The carpet mats come with the bow-tie emblem and in colors that will complement your interior. You can also get a carpet mat emblazoned with the Chevelle logo. Putting down a mat helps keep the interior of the car clean, and the mat must fit the foot well or it will bunch up under the pedals or slip under the seat. You want to use reproduction parts that are designed to fit your Chevelle. H&H Classic carries floor mats and sound deadener kits that are designed to fit your model of Chevelle. Mats and deadeners will help reduce noise in your car, so when you are ready to add these pieces to your car, you will find carpet mats, rubber mats and sound deadeners here.