H&H Classic Parts -
Chrome Bumpers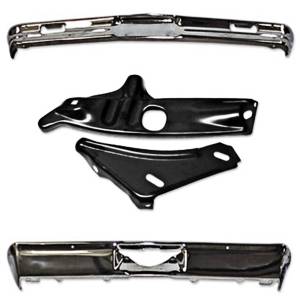 The Chevy Nova was a compact car that came in both a 4-door sedan and a 2-door coupe, and it was originally equipped with a 4-cylinder engine. If you are one of the enthusiasts that quickly discovered that the Nova could be customized, then you want to add chrome bumpers to this popular car. You will find all the Nova chrome bumpers and fittings you need here.
Select a Sub-Category
---
---
More About
Chrome Bumpers
The bumper on a car is designed to absorb impact in case of a crash. Your car's front bumper acts as a protection device for the radiator and engine compartment, and the rear bumper protects the trunk and rear of the car from damage if someone hits you in the rear. These bumpers also serve as a part of the aesthetics of the car, so when they are chromed, they are designed to draw attention to the natural lines of the car. The Nova is an attractive car, and the addition of chrome bumpers draws the eye to the grille and gives the appearance of speed. When you add chrome bumpers to your Nova, you want to add bumpers that are designed to fit. If they do not fit, they may not work properly in a crash. H&H Classic carries reproduction parts that are made to fit your classic Chevy, so you know you are getting a part that will fit. Whether you need the entire bumper, or you need the nuts, bolts, filler panels, brackets or seals, you will find them all here.