H&H Classic Parts -
Frame Rail Repair Parts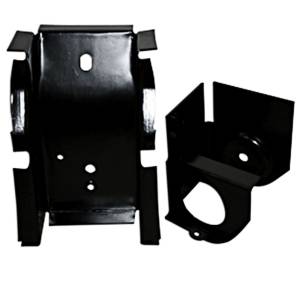 The Chevrolet Nova was designed for the family, but car enthusiasts who were looking for a lightweight car that would withstand more horsepower quickly discovered it. If you are restoring or customizing one of these sporty, little, classic Chevy Novas, you want to make sure the frame is solid in order to withstand any additional power you add to it. You will find the frame rail repair parts here.
Browse Frame Rail Repair Parts
Products
---
---
More About
Frame Rail Repair Parts
The frame rail is the base on which all cars sit, and it is designed to stabilize and solidify the vehicle so it can be driven. If the car has been hit, there is a possibility that the frame has been bent beyond straightening, or if it has been stored in the elements, it may have rusted out. The frame has to be solid on the car, and if you are building from the ground up, you may need to repair the frame rail before you add the body. The frame rail comes in left and right pieces, and the braces are made for the front and the back. You need parts that are designed specifically for your Nova, or you will not have the stability that your car needs. H&H Classic carries reproduction parts that will fit your Nova and keep it solidly on the ground. The frame rails tie everything together, so use only parts that allow for proper placement of the rest of the body parts. You will find all the frame rail repair parts for your Nova now.