H&H Classic Parts -
Vinyl Top Moldings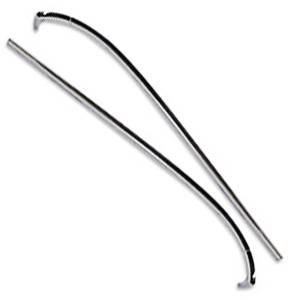 The Chevy Nova was manufactured for those who desired a compact car, and it came in 2-door and 4-door models, and had convertible and vinyl top options. It also appealed to those who were looking for a lightweight car they could customize with more horsepower. If you have one of the vinyl top Novas, you will want to make sure that you add new moldings to the top. You will find all the vinyl top moldings you need here.
Browse Vinyl Top Moldings
Products
Sold as Set
Description:
1968-1972 Nova or Chevy II
Limited Supply:
Only 1 Left!
---
---
More About
Vinyl Top Moldings
This popular compact car had sporty lines and for those who did not want the convertible, the vinyl top added an attractive top without the headaches that came with those with convertible tops. The vinyl top was trimmed with moldings that are designed to keep the edges down and divert water from getting under the top. If the car has been sitting for a long time, these moldings can rot from sun and water. They can be replaced whether you are redoing the roof or not. You want to make sure that you only use parts that are designed to fit your Nova, or they will not seal the top as they should. Ill-fitting parts allow water in and can cause the top to start to peel away from the edges. H&H Classic carries reproduction parts that are designed specifically to fit the classic Chevy you are working on. When you get ready to add the vinyl top moldings to your Nova, you will find all the pieces you need in this section.