H&H Classic Parts -
Sheet Metal Body Panels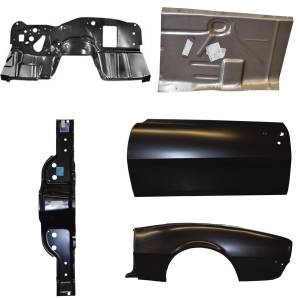 The Chevrolet Camaro was introduced in 1966, and it remains one of the most popular muscle cars ever manufactured. Technically, it was classified as a pony car when it was introduced. However, it became well known as a muscle car as it hit the streets and enthusiasts started to modify it. When you restore your classic Camaro, you need to replace any body parts that have rusted out or were damaged by age. H&H Classic carries Camaro parts for your classic Chevy.
The body is subject to wear, rust and age, and if you are going to drive your Camaro to the shows or on the dragstrip, you need to replace worn out sheet metal. We have glass to trunk panels, dash repair panels and door skins for your Camaro. All of the parts that you need to replace the sheet metal on your Camaro can be found at H&H Classic. Our trained professionals offer free technical assistance should you have any questions. We also offer a large selection and low prices on our restoration Camaro parts. Order today.
Select a Sub-Category
---
---
More About
Sheet Metal Body Panels
Welcome to our Sheet Metal Body Panels Category Page. In this section for your Camaro you will find floor pans, braces, hoods, trunk panels, and all types of body repair panels. Our panels are made in the US and overseas. Anything that you see that is bare metal is made here in the US anything that is black coated is made overseas. We have divided this up into several helpful smaller categories. At any time if you have a question please feel free to submit an inquiry or call our store at 479-787-5575.