H&H Classic Parts -
Thermostat Housings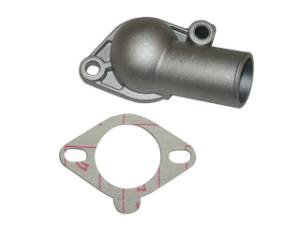 Is your Classic Chevy Camaro often running hot or overheating even though there isn't anything wrong with your radiator or hoses? You may be in need of a new thermostat housing! Often times a broken or cracked thermostat housing is the source of a coolant leak. If this is the situation that you're in with your old Camaro then check out the parts that we carry in this section. After all, you don't want to put replacing it off for too long so that it doesn't cause even more problems. And don't forget, if you have any questions or concerns regarding any of our parts you can submit an inquiry or just give us a call at (479) 787-5575. One of our experts would be glad to help!
Browse Thermostat Housings
Products
Sold as Each
Description:
1966-1972 Chevelle or Malibu or El Camino V8 1967-1969 Camaro
Limited Supply:
Only 1 Left!
---