H&H Classic Parts -
Radiator Caps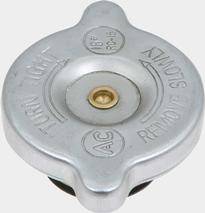 A radiator cap is one of a few parts that can be easy to lose. All it takes is forgetting to put it back on after you check or change the antifreeze in your radiator. You finish up, shut the hood, and take off down the road and then when you see the steam pouring out you immediately know what happened. You jump out, pop the hood, and see that the radiator cap is missing. It ended up falling off of wherever you set it and is now somewhere along the side of the road. You're actually lucky that it didn't fall into the fan and cause some damage! If you've found yourself in this situation then don't worry. Just check out these caps for 1967-1972 Camaros. Probably the easiest fix you'll ever have. If you have any questions then please don't hesitate to call us at (479) 787-5575 or submit an inquiry. We're here to help!
Browse Radiator Caps
Products
Sold as Each
Description:
1967-1969 Camaro With 15lb Cap
Limited Supply:
Only 0 Left!
Sold as an Each
Description:
1965-73 Chevy or GMC Truck 1965-70 Chevy Fullsize Cars 1964-72 Chevelle/Malibu/EL Camino 1962-72 Nova/Chevy II 1967-72 Camaro
Limited Supply:
Only 3 Left!
---