H&H Classic Parts -
Suspension Parts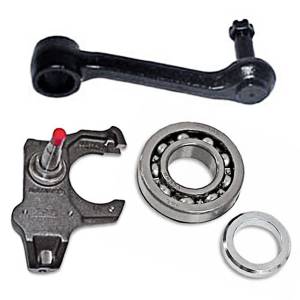 The Tri-Five Chevys are some of the most iconic cars in the world and are still sought after and restored even today. These classic Chevys represent 1955, 1956 and 1957 Americana, and if you're working on one of these passenger cars, you know how important it is to get a solid, yet comfortable, ride from them. As these classics have aged, so have their suspension parts. For safety, it's important that you go over all of the parts and make sure they're in good shape. H&H Classic can help you replace any of the worn pieces.
From spindles to suspension rebuild kits, we can help you get the most from your ride. We carry coil over suspension kits, idler arm parts and axle bumpers that help get your Tri-Five in showroom condition.
At H&H Classic, we specialize in replacement and reproduction parts for classic Chevys, so we have a large selection of suspension components for your Chevy. We've been supplying hotrodders and classic car owners with restoration parts since the 1980s and are owned and operated by the Smith family. Try out our terrific service, fast shipping, and easy returns policy. Shop for your Tri-Five parts here.
Select a Sub-Category
Suspension Parts
Featured Products
---