H&H Classic Parts -
Chrome Bumpers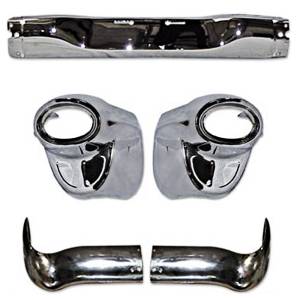 The Tri-Fives remain some of the most popular cars among car enthusiasts and street rodders. Regardless of the model, the use of chrome bumpers and grills drew attention to the attractive front ends of these cars. From bumpers to bolts, you will find all the parts you need to complete the appearance of your front end below.
Select a Sub-Category
---
---
More About
Chrome Bumpers
The bumpers that were used on the Chevrolet Tri-Five family of cars were a lot different from today's bumpers. Today's cars have bumpers that are built to crumple and unremarkable in appearance, but the Tri-Five bumpers were designed not only to protect the car in a crash, they were attractive. They enhanced the front end and drew attention to the fenders and the headlights. The rear bumper was large and heavy, and it protected the trunk case of a crash, but they, too, added to the lines of the cars. The 1957 model Bel Air's fins were certainly enhanced by the extra chrome on the rear. Bumpers are not only functional, but they add to the overall appearance of these classic Chevys. When you get ready to finish the exterior of your Tri-Five, you want to add attractive bumpers that will enhance the appearance and be true to the car's original appearance. You will find bumpers, bolts, brackets and guards here at H&H Classic. We even carry chrome bullets for those flashy 1957s or rear bumper to body bell seals for the 1955s. We have all of your Tri-Five bumper needs here.